I hope this article turns out to be useful for other parents. We are gradually expanding KFP's palate.
Week 1: Fruity Banana Smoothie
In an effort to introduce our Kung Fu Panda to new foods, we began a new weekly activity, Fun Food Friday. Each week, he and I make and/or try a new healthy food or snack. So far, it's had an incredibly good record.
On Week 1, we made Fruity Banana Smoothies from the Pillsbury Kids Cookbook. This was such a hit that we've made it several times since then, as well. Since I am currently dairy-free, we made it with cultured coconut milk instead of yogurt and used dark chocolate chips.
Week 2: Crunchy Almond Cookies
The second week, we made gluten-free Crunchy Almond Cookies from 1000 Gluten-Free Recipes by Carol Fenster. I had to make a few substitutions to eliminate the dairy, but they turned out really well. KFP enjoyed it, eating half a cookie and then asking to put the other half away for later!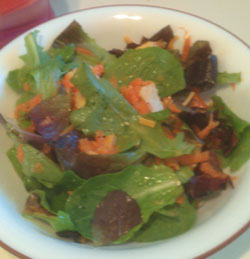 Week 3: Shake-It Salad
On Week 3, I learned that it wasn't always going to be so easy. We tried the Shake-It Salad from the Pillsbury Kids Cookbook. KFP was excited about helping me make the salad, by shaking up the ingredients inside a plastic container, he wasn't as enthusiastic about eating it. He picked out a few shreds of carrot to eat and rejected the rest. Apparently, even with salad dressing liberally applied (via the shake-it method), it wasn't enough to appeal to him.
Week 4: Home-made Applesauce
I was inspired for Week 4's food by KFP's reaction to eating some homemade applesauce at our new favorite restaurant, The Avenue Delicatessen in Lansdowne. Taking the advice of the owner, who loved our project of getting our little guy to make and try new foods, we used a variety of apples. I made double the recipe from The All-New All-Purpose Joy of Cooking by Irma S. Rombauer. Thanks to remembering to sprinkle cinnamon on top, he readily ate up most of his portion.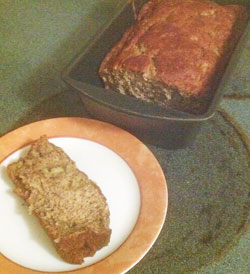 Week 5: Gluten-Free Banana Bread
Week 5's dish was inspired by the fact that KFP recently rediscovered a love for bananas. He also loves bread, so I suggested we make banana bread together. Since I am also gluten-free (since discovering last year that my body is much happier without it), we made Jill and Stella's Gluten-Free Banana Bread from a fabulous site that includes lots of child-friendly recipes. I used dairy-free margarine instead of butter and Xylitol instead of sugar. He had a lot of fun mashing up the bananas and helping me stir. The ultimate result was tasty, but without taking a nibble, KFP declared that it was neither bananas nor bread and he didn't want it! Well, they can't all be successes, I suppose.
Week 6: Great Green Experiment
The following week, Week 6, we started a series of "color experiments," where we try foods of one color each week and mark down which ones we like. I got the idea from a blog post shared with me by a friend about how the blogger got her children to love green foods. Naturally, we started out with green foods. We tried peppers, celery, cucumbers, avocado, grapes and snow peas. He marked a smiley face for everything but the avocados (which he barely even nibbled). Since then, he has requested snow peas and peppers, and I've been very happy to comply.
Week 7: Great Red Experiment
Last week, Week 7, we continued the color experiment series with the Great Red Experiment, which I thought would be perfect for Valentine's Day. This time, the results were even more promising: he gave smiles to all six foods. We tried beets, apples, raspberries, strawberries, watermelon and tomatoes. I intend to keep these charts so that, if we offer the same foods again and he doesn't want to eat them, we can show him what he said about them when he tried it before. We wrote down adjectives as well as having him mark whether he liked it. My favorite adjective of his for these foods? "Yum."
This week, we were supposed to do the Great Orange Experiment with peach, cantaloupe, tangerine, mango, orange pepper and sweet potato. Unfortunately, I probably started it too late in the day, after we'd already done an involving activity ("painting" with frozen ice cubes that had food coloring mixed in). All he did was eat the cantaloupe (which he already knew he liked) and refuse the rest. I wrapped up his tray and put it away, so that hopefully we can try it again tomorrow when he's in a better mood.
All told, the Fun Food Fridays have turned out to be a great way to make trying new foods less imposing. And yes, even fun.
---
I am competing in the Baby Steps video contest about early childhood education. Winning the audience prize would help pay for my son's preschool tuition for the rest of the year. To vote for me, please
go to the voting page and view my video
(which should make you smile). To vote, you will then close the video window and click the box at the upper right-hand corner of the preview box for my video. Selecting LIKE for the page does NOT count as a vote for me.
In case that's confusing, I've also uploaded an image that shows you exactly where to click:
Thanks in advance! Every vote helps!